.
Rough handling of the prisoner.


---
At the beginning of 1951, Fr. Trcka's niece, Mrs. Mikis, wrote requests to the State authorities in Bratislava and Prague. She asked for the release of her uncle, or since he was a Czech citizen, at least have him transferred from Podolinec to Moravia close to her residence. If at all possible, she would be glad to take him into her house and would care for him at her own expense. The answer to the three letters did not come until June. In a negative reply, which she received, they wrote: Your requests of May 20, 1951 in regards to the release of your uncle, Fr. Dominik Trcka, or in regards to his transfer to the Czech lands, cannot be granted at this time. I assure you that everything is taken care of and you need to have faith that, if possible, your uncle will be released in due time. It certainly was true that he was taken care of; in fact the prison guards were looking after him!
In the Podolinec camp, the daily schedule for the prisoners was similar to the one in the a regular prison, but the priests and religious would not be broken. They cheered each other up. Very importantly, they were able to pray, celebrate Divine Liturgies and to keep church feast days. That's why Fr. Trcka was able to write from Podolinec: The procession for the Resurrection in our yard was beautiful. The next day, however, it snowed quite a bit. Life was much more difficult for those who were always in fear of questioning and subsequent imprisonment. They lived under psychological pressure of constant uncertainty about their future. Fr. Trcka was one of them. Michal Fitz , in his report about 72 interned Byzantine Catholic priests as of August 1, 1951, mentions Fr. Trcka, a Redemptorist. But, as of August 8, he was already taken to prison. Fr. Jan Durkan, his confrere and cellmate from Podolinec, remembers this event: I personally witnessed as he walked with a military step and stood beside the car. He waited to be taken to the prison for a sin, yet without sin, as if he wanted to say: 'Here I am! I am ready for anything to serve God.' 'Lord, here I am…' was his sigh in every misfortune and whenever God permitted anything unpleasant to occur. To this day it is not known why this devoted servant of God was sentenced to 12 years in prison, where he ended his earthly journeys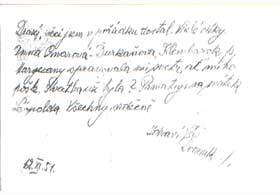 After the interrogation, he was transferred on September 21, 1951, to the jail at the Regional Court in Bratislava. There he met Fr. Mikulas Vladimir, a Byzantine Catholic priest. He had known Fr. Vladimir since childhood. His cellmate from Regional Court in Bratislava, remembers his time with Fr. Metod: I know that he tolerated the court process calmly and with his chin up. I was with him in the same cell. They brought me to Bratislava from Zilina around the middle of November 1951. At first they held me in isolation for a week or two, and then they put me in a cell. There were three prisoners in that cell, and later there were four. When they took me to the cell, Fr. Trcka and Fr. Kapusta from Nove Mesto nad Vahom were already there. Later Spiriak joined us; he was sentenced to death. We were still there at Christmas. I remember that because Fr. Trcka wore his priestly civilian clothes, but he also had his cassock with him. While in Bratislava, he grew a beard. I cannot even picture him without it. On Christmas Day, they served us fish so we could feel a little bit of Christmas spirit. Fr. Trcka put on his cassock and spoke to us. I can't remember what he said but he probably told us to bear all this patiently. Our cell was not very big; it held our beds with straw pillows. There was also a curtain that hid the container we used as a toilet. In Bratislava, since it was a court jail, we had blankets, our own clothes, a toothbrush and a few personal belongings. Food was brought to us three times a day. In the morning, we had black coffee and a piece of bread, lunch was soup with some noodles, or even a piece of meat and potatoes. We were never full. In the beginning they did not allow us any care packages. It was much later that they allowed us two- or one-kilo package. We were up early every morning: at five or six, I cannot exactly remember what we did, but I do know that we had lots of free time. Everyone used it as best they knew how. We did not have any books, so we did not read. We also had problems with our personal mail. It was censored and several of the letters were never delivered to us. Fr. Trcka and I also prayed. We could not do it aloud, because not all in the cell were believers. Everyone prayed what he knew, for example a rosary and whatever he remembered from the hours. When the cellmates took a nap or slept, we heard each other's confessions to be ready for anything. He always prepared himself and took everything on himself. Even when someone had an 'anti-government activity' label attached to them by the communists, he took all the responsibility for it. He said that he was the superior and he was in charge of everything. That is how he wanted to protect other Redemptorists. He did not want them to be interrogated and imprisoned. He believed that he would eventually be released and he wanted to settle in a bigger parish, in a big town, he thought. He would be a church caretaker and there he would serve the Divine Liturgy. Unfortunately, that was not to be.