.
Corporal Remains in Michalovce.


---
Only after the renewal of the activities of the Byzantine Catholic church in 1968 were the Redemptorists able to ask for the transfer of the corporal remains of Fr. Trcka from the prison cemetery in Leopoldov to Michalovce. Exhuming of the corporal remains took place October 16, 1969.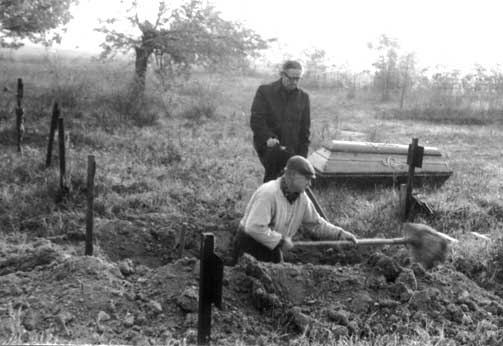 The grave was identified by Fr. Trcka's family and Sister Servants from Sladeckovce. Witnesses to the exhuming, who knew him from Michalovce, recognized his remains by the gold tooth, which shone in every smile of the Servant of God, Fr. Metod Dominik Trcka. Funeral services were held October 17, 1969. Even though the funeral was not properly organized, several faithful and priests came to bid final farewell to this well known missionary, who died as a martyr for Christ and His Church.


| | |
| --- | --- |
| His corporal remains rest in the crypt of the Redemptorists at the cemetery in Michalovce. In 1969, his confreres put forth a request to clear his name, but they did not receive a positive response. It was only after the fall of communism in 1990, that Fr. Metod Dominik Trcka's name was cleared by the Regional Court in Kosice, and thus the state took the responsibility for his unjust imprisonment, sentencing and death. | |

Whenever the prisoners among themselves spoke of injustice and cruelty of the prison facilities and guards, Fr. Metod's martyr death was often used as an example. Details of and circumstances surrounding his death were spread by word of mouth, from cell to cell and from prison to prison. A Verbist Vojtech Kovacik remembers: I have heard that name several times in Valdice, and the prisoners who were transferred from Leopoldov to Valdice spoke of him in with great respect.' Alojz Litva, a Jesuit, a fellow prisoner from Podolinec, learned from those who were in Leopoldov at the time of Fr. Metod's death, that he died as a result of punishment, where he caught a cold, and where he was placed for the simple reason of silently singing a Christmas carol. During the communist regime, even though he was buried in a public cemetery, his grave was not allowed to be visited by masses. This would bring suspicion to the authorities and state securities, and they would consider it a subversive gathering of citizens. However, vivid memories of him among the fellow prisoners, clergy and faithful did not die. Whenever he was spoken about, written about or he was held as an example of a missionary priest, whether in the past or present, it was always in connection with his death as a martyr. This is further confirmed by the testimony of Mudr. Anton Neuwirth: As long as I spoke of him, I always had that feeling of the real martyr death, because not only was he a priest, but in a sense, he performed a sacred function, he sang a religious song, and for that, he was punished unjustly, and unreasonable harshly, to such an extent that his death was the result of it. I consider this to be most important and I would say that this is an essential mark of martyrdom. According to me, he is one of the most distinctive 'white martyrs' of the brutal communist regime in the Czechoslovak Republic.
Jan Durkan compared Fr. Trcka and a confrere, Mikulas Stanislav Nekula, the first Redemptorists of the Prague Province who embraced the Byzantine Catholic rite, to Sts. Cyril & Methodius. They brought to the Slavs in Great Moravia faith in the living Triune God. He wrote: It is our noble jubilee. 50 years ago, we welcomed two stars from the west: Metod and Mikulas. From their great, heroic sacrifices we have the renewal of our Diocese of Presov. These two have rejuvenated us by a spiritual transfusion of blood, and they were followed by other enthusiasts for God and souls, who infused our entire diocese with missions, triduums and other styles of spiritual activity. They did this in such a way that both leaders and faithful alike, fervently looked upon the fruits and results of their activity. The faithful loved them just as our forefathers loved Saints Cyril and Methodius, and some have looked upon them as angels from heaven. Fr. Metod's contribution to the expansion of the Byzantine Catholic Church in Slovakia was considerable. His passion for the House of God was great. He believed so much in the Catholic Church and the ideals of Sts. Cyril and Methodius. This belief cost him his life. He is a radiant example of a Christian missionary, a member of a religious order, a priest, who dedicated his life to the service of God and His Church and who only looked for God's glory and the salvation of souls.