.
Intensive Missionary Work.


---
The missionary work and prayers brought abundant fruit. Apostolic activities were set out in the Presov Eparchy and new missionary fields were opening in Uzhorod and Krizevac Eparchies. These were apostolic works under the direction of Fr. Metod who was the rector of the monastery since 1924: a commemoration of 300th anniversary of THE martyrdom of St. Josaphat, devotion to the Mother of Perpetual Help, A yearly Marian pilgrimage, A Confraternity of the Rosary, a missionary book 'Save Your Soul,' spiritual retreats and renewals for seminarians, priests, sisters. His endeavour was to serve God's people, strengthen the battle for both moral and national revival, and strengthen Catholic awareness among Byzantine Catholics because they were often underestimated by Latin Catholics as well as Orthodox believers. Popular missions, the apostolate proper to the Redemptorists, performed by Fr. Metod and his confreres, had tremendous success.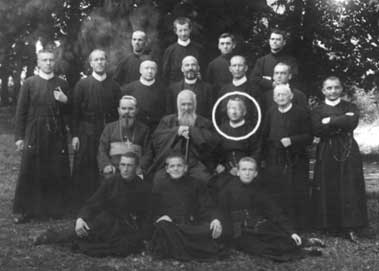 One of the participants in the mission in Ruska Poruba recalls Fr. Trcka: When he was coming to us in Poruba, he spoke a mix of Slovak and Rusin, but he tried to speak Rusin. For two years he studied in Lviv, or somewhere in Poland. That's where he learned Rusin and thus he preached in this way. Although he mixed words sometimes, it did not matter to us. It was a great thing that Redemptorists came here. What I valued most about Fr. Metod was that he was educated and was able to manage everything. He was an authority among the missionaries. What he said, no one opposed. He was so serious! To see him smile was rare. He was usually serious. One could see that he lived in faith, that he endeavoured to teach and inspire people, especially our region, that is so backwards. When they came, I remember, people were coming to the church gladly. The Redemptorists had a good style of sermons, special sermons for women, special ones for men, for youth, for girls, for school children. The sermons were of a high calibre. You could tell they were educated.